What to expect on your visit to Maranatha
We love it when new people find their way to Maranatha. So, we want to make this as easy as possible for you. Below, you will find the answers to just a few of the questions that people may have when they visit our church for the first time.
Whether you are coming on your own or as a family, we would love to make your Sunday morning experience great.
Please note that we are a scent free building. Please refrain from wearing or applying perfumes or colognes or any form of aerosol product (deodorant/body spray) while in the building.
Where are you located?
Maranatha is located at 910 Sturgeon Road Winnipeg, Manitoba.

Click image for Google Maps
What time are your services?
Maranatha meets every weekend on Sundays (except Aug. long weekend we are at Family Camp.)
Sunday School: Sundays at 9:45 am from September (after long weekend) to June (Father's Day)
Free Coffee and Tea Fellowship: Sundays from 10:30 – 11 am in our foyer
Worship Services: Sundays at 11 am
For more specific information please check our events page here.
Where do I park?
At Maranatha we have free parking available in our lot.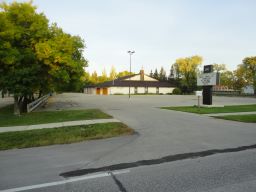 Will I be singled out as a visitor?
It is our desire to welcome everyone who comes to worship. As a first time visitor you will be greeted by one of our ushers and given a welcome packet with some information about our church. In it is a visitor card that we would like you to fill out and place in the offering or hand to our pastor who is often at the door at the end of the service.
What takes place in a church service?
At Maranatha, our service is about 60-70 minutes in length and begins with our band leading the church in music. Our music consists of a variety of contemporary worship and traditional hymns. Song lyrics are projected onto the screen so you can sing along and/or engage with worship however you feel most comfortable.
After the music portion of service is complete, our service leader will come and share announcements and lead in a time of prayer and an offering is taken.
Our Pastor will then share a Biblical based message. The preaching doesn't hold back, but it's designed to challenge and inspire you.
If you would like to get a feel for what it is like - you can listen to past messages here.
We do celebrate communion on a monthly basis. Typically this is on the third Sunday of the month.
What about my children?
We believe that kids should have fun at church every single week - and at Maranatha, we make this a priority. Children are welcome to stay with their parents or take part in our Junior Church programs. (ages 2-11) This program runs during the sermon portion of our service.
We do have a nursery area which is available for all parents with children under the age of two. The sanctuary is visible from the nursery. The service is able to be enjoyed from this room as well.
The other thing we make a priority is your children's safety. Because of that, we have a check-in process for our children, the first time that you visit it may take a few minutes to get signed in for the children's programs.
What do I wear?
We're not concerned with what you wear. Maranatha has a 'come as you are' atmosphere. You will find a range of dress styles from jeans and t-shirts to shorts and flip-flops, to the occasional sports jacket and dress. Come dressed however you are comfortable and you will fit right in. Maranatha is made of up people from different backgrounds, life stages, and personalities - just dress as you feel comfortable.
Need more information?
Have questions that we have not answered here? Give us a call at 204-832-1371 or send us an email at office@mefree.ca and we will do our best to answer your questions.